Shopping mall floors frequently become dirty due to continuous trampling by visitors. Every day, hundreds of people walk and bring in all kinds of soil, dust, stones and dirt between the shelves, in the aisles, restrooms and food courts. That's why it is essential to rely on professional solutions that can operate quickly without annoying customers, thus ensuring an excellent level of cleanliness.
Vacuum cleaners, sweepers and floor scrubber-dryers are the perfect solution for floor care inside shopping malls and supermarkets: here's why and how to use them while getting the best performance.
Professional floor care cleaning
In recent years, more and more shopping malls, supermarkets and large-scale retail chains have changed their access planning so as to ensure continuous opening to customers, welcoming them 7 days a week for long periods sometimes exceeding 12 continuous hours. This has increased the need to find solutions for professional cleaning that can ensure excellent operation, even in the presence of customers and workers.
The ideal solution for floor care in malls and supermarkets are professional cleaning machines such as vacuum cleaners, floor scrubber-dryers and sweepers, which provide deep cleaning in no time. These quiet, top-performing machines vacuum, collect, wash and dry in a matter of minutes, avoiding the need to stop customer access to specific mall areas or aisles. This makes it possible to operate frequently, providing customers with an excellent, comfortable and safe shopping experience.
By using these professional products, it is therefore possible to carry out cleaning inside shelves, aisles, restrooms, food courts and stores at any time, whether for routine or extraordinary cleaning.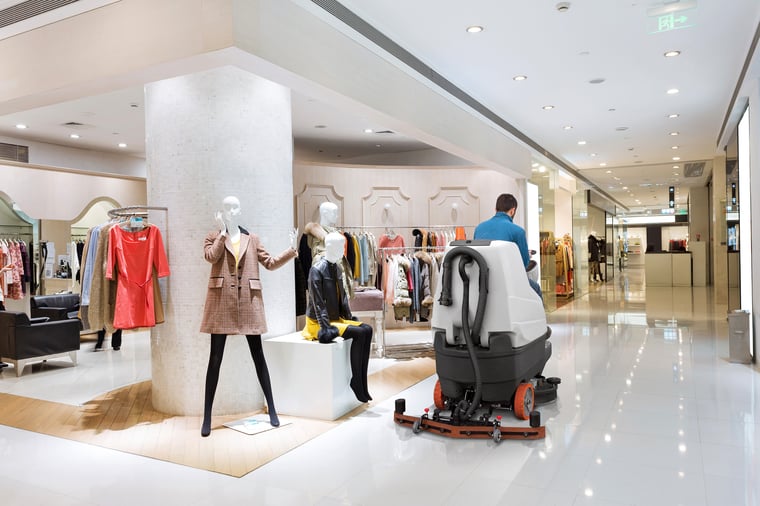 The best professional cleaning products of shopping mall floors are:
The vacuum cleaner which captures dust by filtering it inside an internal container and releasing clean air. Some models are available with specific features, dedicated to liquid suction or carpet cleaning;
The sweeper which picks up coarse-sized debris such as cans, plastic, glass or coarse material, clearing aisles and floors in no time and ensuring the safe passage of people, carts and strollers. They are particularly suitable for cleaning forecourts and parking lots outside shopping centers, i.e. very large areas often neglected by adequate cleaning services.
The floor scrubber-dryer which washes and dries all kinds of surfaces in a few seconds, ensuring thoroughly sanitization. They can also be used with customers walking around and during opening hours, cleaning and especially drying of floors is immediate and does not require waiting.
The latter solution is particularly suitable for shopping mall floor care where continuous trampling could make floors slippery, sticky or full of germs and bacteria.
Contact Us
Columbus UK  based in Darlington County Durham is your total solution for all types of indoor and outdoor cleaning equipment. We supply high quality industrial cleaning machines to all industries and commercial businesses in mainland Britain, including Newcastle Upon Tyne, Teesside, Durham and Wearside.
Our friendly dedicated team are available to help you with purchasing advice to ensure that have the correct machine for your industrial floor at an affordable and cost effective price. Columbus offers premium services while ensuring affordability for all Industries.  We cover all areas from Scotland, North East of England, West Midlands down to London.
We also offer mobile service & repair support to all locations.
Email: info@columbusuk.co.uk
Tel: 01325 371 439
Web: www.columbusuk.co.uk