When buying a new electrical appliance, it's important to find the one most suited to our needs. Given the vast range of similar products, yet with important differences and specific characteristics, knowing certain details can often help us understand which product to choose.
The same applies to purchasing a new high pressure cleaner: should we choose one with hot water or cold water? Let's take a look at the differences between these products and understand which model is actually most compatible with your needs.
What are the differences between hot water and cold water high pressure cleaners?
Speed seekers want a sports car; mountain lovers prefer an off-road vehicle; city dwellers opt for a compact car. Every new purchase responds to a need and specific necessity, and the same holds true for high pressure cleaners. Even in this case, there are many different elements to consider, starting with the type of environment, one's personal habits, and the intended use.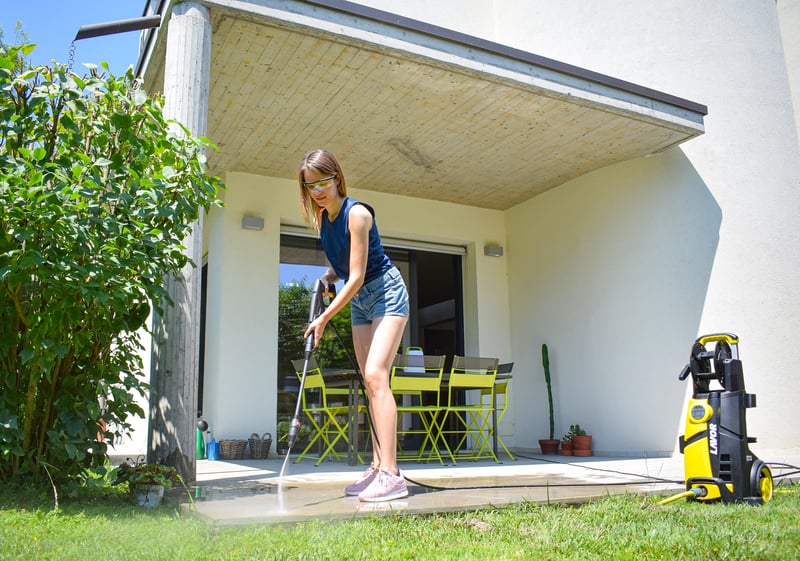 Based on these factors, there are two possible types:
Hot water high pressure cleaners, perfect for removing oily stains, encrustations, and for deep, rapid cleaning. The high pressure water, made to pass through a coil, is heated by a flame generated by a diesel burner: the hot water, combined with the pressure, facilitates cleaning of even the most stubborn dirt, without using detergents. The benefit of these products is that they can also work with cold water alone, by simply not turning on the boiler;
Cold water high pressure cleaners are more compact and easy to handle. Pumps and pistons increase the water pressure, which, thanks to the support of high-performance nozzles, cleans the surfaces of any mud, foliage, soil, and moss.
In both cases, excellent results can be obtained in half the time. Domestic high pressure cleaners are perfect for periodic cleaning and to keep the outdoor areas of the home constantly clean, tidy, and orderly, in very little time, but above all with minimal effort. Moreover, the broad selection of optional accessories make them extremely versatile, helping not only with daily cleaning, but also domestic maintenance, such as the cleaning of gutters, roofs, or clogged pipes.
Contact Us
Columbus UK  based in Darlington County Durham is your total solution for all types of indoor and outdoor cleaning equipment. We supply high quality industrial cleaning machines to all industries and commercial businesses in mainland Britain, including Newcastle Upon Tyne, Teesside, Durham and Wearside.
Our friendly dedicated team are available to help you with purchasing advice to ensure that have the correct  machine for your industrial floor at an affordable and cost effective price. Columbus offers premium services while ensuring affordability for all Industries.  We cover all areas from Scotland, North East of England, West Midlands down to London.
We also offer mobile service & repair to all locations.
Email: info@columbusuk.co.uk
Tel: 01325 371 439
Web: www.columbusuk.co.uk