Inside warehouses and logistics centres it is very easy to find yourself with dirty floors, covered with dust, coarse debris and material of all kinds. To protect the work and safety of operators, Saving time and money, and simplifying the work, it is essential to rely on professional products for floor care. Let's find out what are the best products for cleaning warehouses and logistics centres, for frequent and effortless cleaning.
Why the floor care of warehouses and logistics centres is important
Every day in logistics centres and warehouses a large amount of materials of all kinds is handled. Food, wood, boxes, pallets loaded with goods, glass, plastic and liquid substances and must be loaded and moved in total safety, preventing them from being damaged or contaminated. In the same way it is important to dedicate oneself to floor care to avoid that there may be impediments to the normal performance of activities by operators.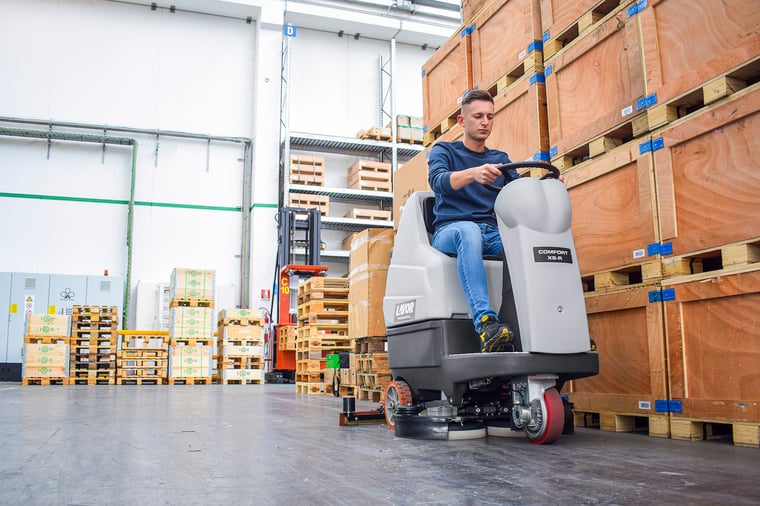 The workers, in fact, carry out their work by moving continuously within the space, driving forklifts and trolleys. To protect their work, preventing them from getting stuck, slipping or falling, it is essential to always keep the floor clean, removing coarse debris, especially large ones, and sticky or liquid substances.
Within warehouses and logistics centres it is important to dedicate yourself to floor care for:
Prevent dangers, accidents and situations that can block the internal production and organizational cycle;
Protect the quality of the goods, preventing it from being contaminated with liquid or solid dirt;
Improve working conditions, both safety and comfort for the worker. It is important to guarantee operators a sanitised, clean and safe working environment.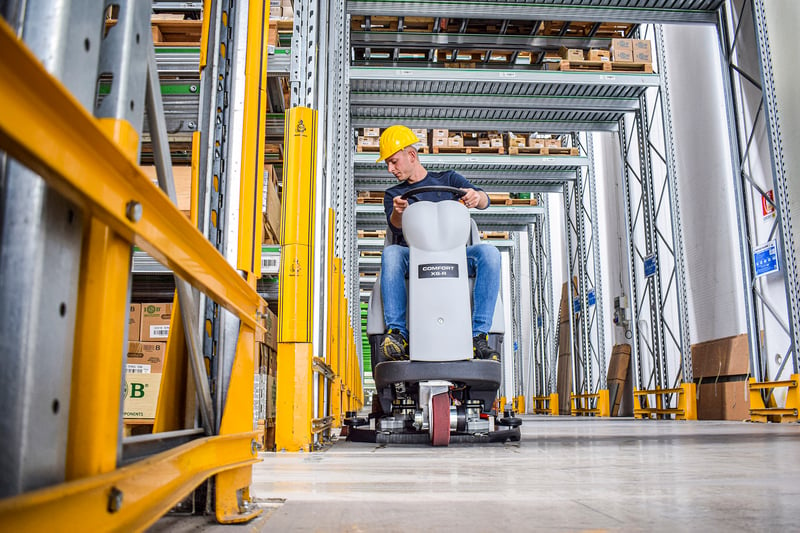 Choosing to entrust the care of floor care to products designed for professional cleaning such as sweepers and scrubbing machines allows you to have important advantages also from a logistic-organisational point of view:
Thanks to their ease of use and intuitive controls, these products can also be guided by technicians who are not specialised in the professional cleaning sector. In this way it is possible to intervene at any time even in case of emergency;
Silence, manoeuvrability, safety and speed of cleaning allow the use of sweepers and scrubbing machines even during the usual working hours, allowing a continuous intervention that does not block company productivity;
Thanks to their size and their ease of use, cleaning, even of large areas, is quick and easy, allowing you to lose very little time and without effort.
Contact Us
Columbus UK  based in Darlington, County Durham is your total solution for all types of indoor and outdoor cleaning equipment. We supply high quality industrial cleaning machines to all industries and commercial businesses in mainland Britain, including Newcastle Upon Tyne, Teesside, Durham and Wearside.
Our friendly dedicated team are available to help you with purchasing advice to ensure that have the correct machine for your industrial floor at an affordable and cost effective price. Columbus offers premium services while ensuring affordability for all Industries.  We cover all areas from Scotland, North East of England, West Midlands down to London.
We also offer mobile service & repair support to all locations.
Email: info@columbusuk.co.uk
Tel: 01325 371 439
Web: www.columbusuk.co.uk